Color Viscosity Linoleum Prints
6/30/2020
I am delighted to announce that my color viscosity linoleum prints have been added to the K. Caraccio Fine Art Collection. The collection is home to more than 5000 original prints and handmade books.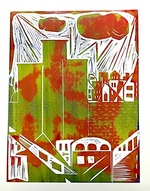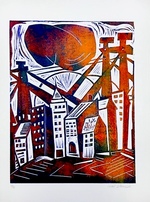 East River. Brookln Bridge
https://kcaracciocollection.com
---
2018 DELTA NATIONAL SMALL PRINTS EXHIBITION
11/21/2018
Morning on Madison has received the Cheryl Wall Trimarchi Purchase Award and is now part of the ASU Permanent Collection of Art.
---
2017 Delta National Small Prints Exhibition

BRADBURY ART MUSEUM

January 18 - February 21, 2018
http://bradburyartmuseum.org
http://www.kjnbtv.com/single-post/2018/01/19/Delta-National-Purchase- Awards-and-Sponsorships

The Delta National Small Prints Exhibition began its fourth decade with a selection of prints by artists from across the country and abroad. The works in the exhibition range from traditional imagery and printmaking techniques such as engraving and lithography to monotypes and experimental print mediums.

The 2018 DNSPE juror is Mary Weaver Chapin, PhD Curator of Prints and Drawings at Portland Art Museum.
https://portlandartmuseum.org